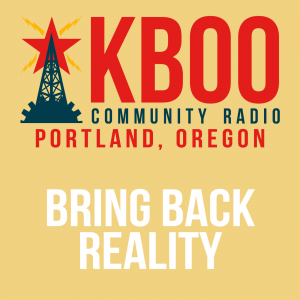 Subscribe to podcast
A late night morning show stuffed w/ antics, food talk, interviews and a wide spectrum of music.
Please check out our mixcloud page for all our archived shows!!! https://www.mixcloud.com/bringbackreality/ Welcome to our Realm !

Music, Food, Art, Humor, Culture, Improv, Interviews, People, Life, PDX and Suprise Characters will create the show we get to share with you.

 Between the both of us we bring a wealth of musical tastes.  From funk to early electronic,  Avante-Garde to Progressive, Jazz to experimental, Rock to Indie and music with no categories. This is not your typical radio program, we are excited to entertain you with our unique spin on a radio podcast!!