Air date:
Sat, 02/29/2020 -

12:00am

to

3:00am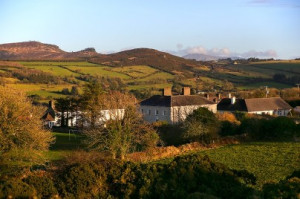 Every two years, a mountain village of seven hundred people in Western Ireland hosts over 400 festival-goers for the HearSay International Audio Arts Festival. It is a one-of-a-kind festival featuring award-winning, international audio artists, producers and audiophiles at the intersections of radio, podcasting, theatrical sound design, film sound, sound installations, musical performance, experimental audio and more. If it makes sound, or even if it doesn't, it's welcome in Kilfinane. Nikki Martin, host of KBOO's quarterly Threshold Shift series, was able to sit down with the festival director and co-founder, Diarmuid McIntyre, to chat about his recollections of the festival six years on. Several of the festival's presenters and award winners have contributed to this evening's show. 
Contributors in Order of Appearance:
Nicole Martin:  Excerpt from a Field Recording, Dawn in the Ballyhouras. Recorded 27032019 at the Ballyhoura Lodges in Ballyorgan, Co. Limerick--weaves throughout interview segments
Diarmuid McIntyre: Selections from an Interview with Nicole Martin. Recorded 22022020 in Portland, Oregon and Kilfinane, Co. Limerick, Ireland.--weaves throughout show
Beniôt Bories: Kilfinane Heart Songs, Premiered in 8 Channel Surround at HearSay 2019. Recorded in Kilfinane in Fall/Winter 2018 as part of a HearSay audio residency. Featuring the People of the Village of Kilfinane.
Slavek Kwi: HEAR_(sayNOmore): 1. Rain, Sat 06042109. Recorded in Kilfinane, Co. Limerick--weaves throughout following segments
Diarmuid McIntyre & Grey Heron Media: A Scavenged Portrait of Kilfinane. Audio from the Grey Heron Media Archives. Recorded in Kilfinane, Co. Limerick
Phil Smith: Field Recording, River Babble & Birds. Recorded 310312019, Ballyorgan, Co. Limerick
Wes Swing & Kelley Libby: Excerpt from "This is the sound of rocks on the pond which is frozen." A live performance from HearSay 2019. Featuring Kelley Libby (voice), Wes Swing (cello). Venue: The Old Church
Stephane Marin: Excerpts from The Unheard Walks:  Crows, Hurling, River & Hail. Commissioned by and premiered at HearSay 2019. Recorded in Kilfinane, Co. Limerick
Slavek Kwi: HEAR_(sayNOmore): 2. Sun, Sun 07042019. Recorded in Kilfinane, Co. Limerick--weaves throughout following segments
Phil Smith: Field Recording, Excerpt from We Are Gathered Here. Recorded 31032019, Ballyorgan, Co. Limerick
Nicole Martin: Field Recording, Excerpt from the Village Inn. Featuring Nicole Martin (voice), Phil Smith (voice), Richard (voice). Recorded 29032019, Ballyorgan, Co. Limerick
Phil Smith: Excerpt from A Heart's Chorus. A live performance premiered at HearSay 2019. Featuring Phil Smith (voice and accordion), Niamh O'Brien (voice and harp), Wes Swing (cello), Field recordings of singing at the      Village Inn at Ballyorgan plus interviews recorded at the festival and from Phil Smith's archive. Venue:  The Ballyhoura Apple Farm
John DeLore and Brendan Francis Newnam: 575 Podcast HearSay Haikus 1) Stream  2) Irish Radio in kitchen (1:56)  3) Brendan walking outside fades in (2:45)  4) Connor Bagpipes (3:50)  5) Church bells (7:28)  6) Diarmuid's Heart fading in (9:54)  7) Holy Well (10:53)  8) Crows, then walking to people (12:30)  9) Entering pub (15:11)  10) Night wind (16:40)
Mark Vernon: Selections from Magneto Mori:  Kilfinane. An audio project comprised of field recorded reel-to-reel tape that was buried for several days at the festival site, passed through a demagnetization process, cut apart, spliced together and played back. The performance premiered at HearSay 2017 featuring recordings from Kilfinane, Co. Limerick and sections from the Grey Heron Media Archive. Limited Editions of the complete piece are available here.
Contributor Bios in order of Appearance:
Nikki Martin is the host of KBOO's Threshold Shift and an award-winning Sound Designer. She had the great honor of being HearSay's first international de facto Production Manager in 2019. 
Diarmuid McIntyre is the Co-founder and Director of the HearSay International Audio Arts Festival. He also helms Grey Heron Media, an award-winning radio production company based in Kilfinane, Ireland. Special thanks to the rest of the Grey Heron team Daniel Clancy, Mary McDonnell, and Vernoica Santorum. 
Beniôt Bories is a documentarian and sound creator. He produces audio for documentaries for France Culture, Arte Radio, Radio France International, RTBF and ABC Radio. He also creates sound in the fields of live performance and trans-media productions with Charlotte Rouault, his co-creator at Faidosonore.net
Slavek Kwi Born in former Czechoslovakia and now based in Ireland, Slavek Kwi is also known as Artifical Memory Trace. He is interested in the phenomena of perception and how it determines reality and is fascinated by possibilities of extrasensory communication as potential for raising mutual sensitivity. He has a longstanding fascination with sound-environments, developing what he terms 'electroacoustic sound-paintings' that oscillate between sound only works and interdisciplinary works exploring social, spatial and temporal processes.
Phil Smith is a musician and radio producer from the United Kingdom, who enjoys composing with words and sound.
Wes Swing is a cellist, singer, composer and songwriter from Charlottesville, VA. In live performance, he uses electronic looping, where deliberately sparse and stark instrumentation and sections of intimate performance transition into electronic escapades and flourishing crescendos. His music has been featured on NPR, in film, and by modern dance companies.
Kelley Libby is a radio documentary maker based in Charlottesville, VA. She is a creator and producer of UnMonumental, a Localore: Finding America project. Her work has been heard on NPR's All Things Considered, BackStory,Virginia Public Radio and Re:sound. She is currently an associate producer at With Good Reason where she hosted and produced the five-part series American Dissent. Kelley enjoys making soundscapes and abstract audio experimentations with her partner, the composer and cellist, Wes Swing.
Stephane Marin is an audio artist based in Toulouse, France. As he puts it, "There is always a direct link to the spaces where the work will be heard. Working in conjunction with sound ecology, Espaces Sonores proposes sonic and musical creations which listen to the world, respecting the integrity of the sonic environment while recomposing it contextually." His work exists "on the border between listening to the soundscape and 'in situ' compositions."
John DeLore loves sound. He is a senior editor and tenured audio engineer at Stitcher's NYC studio. He has worked on the following projects: The Paris Review Podcast, Stranglers, Beautiful/Anonymous, The Longest Shortest Time, Couric, Clear + Vivid w/ Alan Alda, Fake the Nation, and The Sporkful. DeLore writes and performs literary folk rock as The Reverend John DeLore and is currently based in Brooklyn, NY.
Brendan Francis Newnam  is a host, writer and producer best known for creating pioneering podcasts like The Dinner Party Download, The Paris Review Podcast and Aria Code. He is alos the founder of Public Address, a production company that consults, and creates quality podcasts for organizations including the Wall Street Journal and Airbnb. He is currently producing an original series for First Look Media.
Mark Vernon is a Glasgow based sound artist and radio producer who co-runs and co-curates Glasgow's art radio, Radiophrenia. His sound practice is "focused upon audio archaelogy, magnetic memory and found sounds. Operating on the fringes of sound art, music and broadcasting, his works main concerns are with field recording, the manipulation of environmental sounds and the power of the disembodied voice."
A Special Thank You:
...to the 2019 Inaugural International HearSay Volunteer Crew:  Daniel Clancy, Mary McDonnell, Tereza Rekova, Kate Landers, Kathy O'Hare, Dave Santorum-Crespo, Greg McNamara, Daniel Higgott, Magdalena Roublova, Amica Sciortino-Nowlan, Anne Pope, Alyssa Fleming, Aoife Allen, Catherine Girardeu, Danny Ryan, Dermot O'Connor, Fabian Sweeney, Ivan Murray, Jack Connor, Jamie Griffin, John Beauchamp, Kamil Kiersztan, Kathryn Crowley, Katie Revell, Katz Laszlo, Laura Almo, Lucy McDonald, Mia Nexo Gjelstrup, Michael Desmond, Monica Hayes, Patrick Mark Duffy, Paul Murphy, Perel Chana Sessler, Ray Burke, Rosa Eaton, Rosie Parsons, Sara Zarreh Hoshyari Khah, Sara Jane Hall, Shelley Ann McCarthy Buckingham, Thomas Chalan, Zoe Blackwell, Matt Rose, Lisa Gold, Clare Hampson, Anne Marie Deacy, Abigail Joffe, and to all the artists, contributors and community members who helped make HearSay 2019 possible. 
Update Required
To play the media you will need to either update your browser to a recent version or update your
Flash plugin
.