Air date:
Mon, 04/26/2021 - 11:00pm

to

Tue, 04/27/2021 - 12:00am
More Images: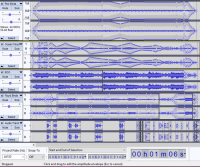 Featuring Chris Gavazza (Multi Instrumental Musician PDX) The mind is a terrible thing to taste.
Join Chris and Thomas (ep) as they show the light at the end of the tunnel discussing together programs and services that they themselves utilized in search of a better life.
With self care being important, they also discuss activities and fun without the use of mind altering substances in the Northwest.
Music was and is a big part of the healing process. They choose music together and discuss how the songs helped them through times of distress.
Expect an eclectic set list filled with classical, ambient, electronic, contemporary rock, metal and music with no label or scene.
Not every path or choice is made without hardships along the way.
Out of the darkness there can be light.
SET LIST
This is basically a very close audio description of how living through 2020 was for me in Old Town Portland Oregon.
The very beginning is voices of Donald Crump, A local Portland lady chanting BLM in a Portland protest, a group of local portland protesters chanting "Peaceful Peaceful", and a tiny excerpt from David Byrne's rendition of Janelle Monae's "Hell You Talmabout" off of his live album American Utopia on Broadway (Original Cast Recording). It also includes the apocalyptic ending from the song  Four Minutes from Roger Waters' album Radio Chaos.
I am a huge pink Floyd fan. I was renting a room in North Portland. From a man I didn't know. I had heard the song a million times but for some reason on this particular day it hit me hard just how short life CAN be. Life is long today.
I chose this song for all of the interview sections of this entire program because well, it's nice and quiet and pretty!
This is just straight up one of my favorite songs. Period. It was sort of a bucket list thing to be able to air it. Knowing that the air waves go on forever.
I chose this song because it's one of those that I listened to over and over again in my recovery. I listen to everything that Liz creates because the depth of her music is unfathomable. Literally some of the most heavy music I've ever listened to that isn't metal or any sub genre of extreme music. Her music got me through some very hard times, and listening to it is like you're drowning, but something is saving you and you move closer to the surface and break through to take that breath of air you need. 
California Gracefully by Everytime I Die. Keith Buckley's lyrics are unique and sarcastic in a way that hits you like a ton of bricks. He is a brilliant song writer and Everytime I die is just chaotic and crazy enough to make sense to my damaged mind. One of the lines right before an epic breakdown is, " YOU ARE MY FAILED 12 STEP PROGRAM!" The song points to drug addiction obviously, but there's a nod to a relationship in there too. Nothing like a relationship to fuck up early recovery. That's why they tell us not to do that shit in the first year. Focus on ourselves and the healing that needs to happen. Once again I had to learn something the hard way.
I remember sitting in a van smoking a joint with Dave Knudson of Minut the bear and out of the blue he says. "I really just want to hear some fucking Pantera right now". Not every memory of using is a bad one...
I love extreme music and this band is amazing. In early recovery, most people experience an amalgam of different emotions as we heal. Anger was very present a lot of the time for me, and really heavy music helped quite a bit.
This tune always reminds me of my brother playing it when I was a kid and him being all animated singing it and just laughing our asses off. The "She kept her child clean" part is why it was chosen for this particular program.
I absolutely love Jonah!! He always puts me in a good mood when  I listen to his lyrics. It reminds me also of someone in my life that I disreguarded. JFT/HOW
This was the last song that I heard in a bar while I was drinking in a bar. I had the epiphany that what I was doing was not the life I was meant to live. I drank myself out of 4 jobs, relationships and a drivers license. I don't need to do this shit anymore, it's not serving me. 
Well. This is my old band. I was a Dickface McJerkbag back then. What else can I say?
My nephew is a local bad ass rapper/producer and he Inspires me daily. I look up to him and his producing skills and he motivates me to push through the battle.
I just think that it's one of the most beautiful songs that I've ever heard.
 I put my songs on random and this one popped up. It totally worked. 
Damaged Animal -  You will see us in a basement near you (Christopher Gavazza, Thomas James)
Beauty is found.
You are worth it.
"Don't Worry It's Only a Pandemic"
TM
Update Required
To play the media you will need to either update your browser to a recent version or update your
Flash plugin
.