Air date:
Thu, 09/21/2023 -

12:00am

to

3:00am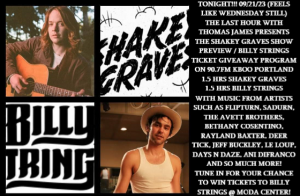 More Images:
1.5 hours of Shakey Graves / 1.5 hours Billy Strings Ticket Giveaway Special Program
This program is 3 hours long. The first hour and half features music, interviews, and interludes from Shakey Graves albums Roll The Bones X, And The War Cane. Movie Of The Year also 3 one man bands that influenced Shakey Graves and multiple bands that have recently been on tour with Shakey Graves.
The second hour and half features The Billy Strings Ticket Giveaway and music from Fleetwood Mac, DAYS N DAZE, Bethany Cosentino, Sierra Ferrel, Saturn, Rayland Baxter, Hank 3, David Allen Coe, Kenny Rogers, Dolly Parton, Fred Again, Brian Eno, Squarepusher, Incubus, Tracy Chapman, Flipturn, Lucious, Langhorne Slim, The Avett Brothers, Ani DiFranco, City And Colour, The Devil Makes 3, Brandi Carlisle, Le Loup, Scott Byrum, Bob Log 3, Posessed By Paul James. Jeff Buckley, Doo Rag and Annie Lennox.
Be the 5th person to email when the special email is revealed and win Billy Strings tickets for the 9/29/23 Moda Center concert. 
When you hear the song ' Listen To The Radio" by Billy Strings and Molly Tuttle. That is your cur to email and win those tickets. 
The times are not accurate for the set list. It was all worth it to me.
2:51 AM Deer Tick Dirty Dishes War Elephant Partisan Records
2:48 AM Lucius LSD Second Nature Dine Alone Music Inc.
2:45 AM Billy Strings Dust in a Baggie Billy Strings - EP Country Billy Strings
2:40 AM Incubus Are You In? Morning View Epic/Immortal
2:36 AM Brian Eno & Fred again.. I Saw You Secret Life Electronic Text Records
2:32 AM Kenny Rogers & Dolly Parton Islands in the Stream (with Dolly Parton) A Decade of Hits  
2:29 AM Abraham Alexander Déjà Vu (ft. Mavis Staples) SEA/SONS Dualtone Music Group
2:25 AM Sierra Ferrell The Sea Long Time Coming Folk Rounder
2:21 AM Tracy Chapman Give Me One Reason Collection Elektra Records
2:17 AM Annie Lennox I Put a Spell On You Nostalgia Jazz Universal-Island Records Ltd.
2:14 AM Brandi Carlisle The Chain Sweetheart  
2:11 AM David Allen Coe Drinking To Forget Hello In There  
2:09 AM Doo Rag Hussy Bowler Hussy Bowler / Grease & All EP Toxic Shock
2:06 AM Bob Log III Log Bomb Log Bomb Blues Fat Possum
2:03 AM Scott H. Biram Blood Sweat & Murder The Dirty Old One Man Band Blues Bloodshot Records
2:01 AM Possessed By Paul James I'm So Good at Absolutely Nothing As We Go Wandering Folk Independent
1:58 AM Jeff Buckley Corpus Christi Carol Grace Columbia
1:51 AM Jeff Buckley Hallelujah Grace Columbia
1:48 AM Hank Williams 111 Louisiana Stripes Straight To Hell  
1:44 AM Hank Williams III Low Down Straight to Hell Country Bruc Records
1:41 AM Bethany Cosentino It's Fine Natural Disaster Concord Records
1:38 AM Bethany Cosentino I've Got News For You Natural Disaster Concord Records
1:34 AM Rayland Baxter Olivia Feathers & Fishhooks Country MapleMusic Recordings / ATO Records / Fontana North
1:30 AM Sadurn Radiator Radiator Run For Cover Records
1:26 AM Flipturn August Citrona flipturn
1:21 AM Le Loup Morning Song Family Electronic Talitres Records
1:18 AM Days N Daze Addvice Show Me the Blueprints. Country Fat Wreck Chords
1:12 AM Shakey Graves Playing Along Movie of the Week Dualtone Music Group
1:08 AM Shakey Graves Big In the World Movie of the Week Dualtone Music Group
1:03 AM Shakey Graves Evergreen Movie of the Week Dualtone Music Group
1:00 AM Shakey Graves Ready or Not (feat. Sierra Ferrell) Movie of the Week Dualtone Music Group
12:56 AM Shakey Graves Dearly Departed And the War Came Country Dualtone Music Group
12:51 AM Shakey Graves Family and Genus And the War Came Country Cooking Vinyl Australia
12:47 AM Shakey Graves Roll the Bones Roll the Bones X Dualtone Music Group, Inc.
12:44 AM Shakey Graves The Haunted Guitar (Interlude) Roll the Bones X Dualtone Music Group, Inc.
12:42 AM Shakey Graves The Teacher (Interlude) Roll the Bones X Dualtone Music Group, Inc.
12:40 AM Shakey Graves The Shepherd (Interlude) Roll the Bones X Dualtone Music Group, Inc.
12:36 AM City and Colour Fucked It Up The Love Still Held Me Near Still Records
12:34 AM The Devil Makes Three The Plank The Devil Makes Three Kahn Records
12:31 AM Langhorne Slim Never Break Lost at Last, Vol. 1 Country Dualtone Music Group, Inc.
12:27 AM The Avett Brothers Untitled #4 The Third Gleam Loma Vista Recordings
12:21 AM Ani DiFranco Crocus Revolutionary Love Folk Righteous Babe Records
12:17 AM Alabama Shakes Always Alright Always Alright - Single ATO Records
12:12 AM John Prine The Great Compromise Diamonds In the Rough Atlantic Records
12:06 AM Fleetwood Mac Experience Storms The Very Best Of  
12:02 AM Billy Strings & Molly Tuttle Listen To The Radio More Than A Whisper: Celebrating The Music Of Nanci Griffith Rounder
12:00 AM Squarepusher Hello Meow Theme From Sprite Electronic Warp Records
Update Required
To play the media you will need to either update your browser to a recent version or update your
Flash plugin
.