Air date:
Thu, 01/14/2021 -

9:00am

to

10:00am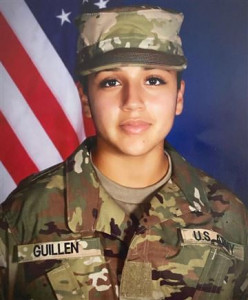 This is a evergreen episode.  It was originally aired on August 26, 2020.
The murder of Vanessa Guillen has struck a violent, but unsurprising chord among the progressive community, anti-war veterans as a whole, and the many victims of military sexual trauma, as the activist reaction, given the high violent crime rate at Ford Hood, is to demand shutting down the entire Army post (the second biggest one in the continental U.S.) and insisting that the entire chain of command from Vanessa's first line supervisor to the commanding general, resign in shame at their failing to protect an innocent human being under their command.
Here, Danny and I discuss this issue with Pam Campos-Palma, a progresive Latina political strategist whose activism includes, among many topics, fighting for lasting change within the military's sexual assault / harassment systems, and we're excited to bring her incredible experience to Fortress On A Hill.
Pam Campos-Palma is an impactful political strategist and movement builder focused on peace and security, equity engineering, and movement building at home and across borders. She is an often consulted and trusted adviser to national-level leaders, organizations, think tanks, and campaigns, expertly bridging the gap between grassroots movement and grasstops policy worlds to win lasting change. At the core of all her work is the democratization of foreign/defense/security policy through the leadership development, coalition building, and political organizing of war-affected peoples, namely the vets/military community. She is also engaged in transatlantic work around populism and defeating rising global ethno-nationalism and democratic slide.
Pam served in the U.S. Air Force for over a decade as an operations and anti-terrorism intelligence analyst working in Germany, Kyrgyzstan, Iraq and Afghanistan. She began her career in the immigrant rights movement, served as a gubernatorial appointee for the state of Oregon, and as a consultant to international NGO's and social impact ventures. She is a 2019 Atlantik-Brücke Young Leader, was named a "Top 40 Under 40 Latinos in Foreign Policy" by Huffington Post and a 2018 Champion of Change by the UN. Pam has been featured on NBC, CNN, BBC, and NPR, among others, and holds a Masters of Public Administration from NYU with a focus in International Policy and Management. She is a Defense Council member of the Truman National Security Project, an Advisory Board member of Women of Color Advancing Peace and Security (WCAPS), and was a member of the 2019 Women's March Steering Committee.
---
Let me guess.  You're enjoying the show so much, you'd like to leave us a review?!  Click here for Stitcher.  Click here for Apple Podcasts.  Click here for our Facebook page.
Email us at fortressonahill@gmail.com
Check out our t-shirt store on Spreadshirt.com
Not a contributor on Patreon? You're missing out on amazing bonus content! Sign up to be one of our patrons today! - www.patreon.com/fortressonahill
A special thanks to our Patreon honorary producers - Will Ahrens, Fahim Shirazee, James O'Barr, Adam Bellows, Eric Phillips, Paul Appell, Julie Dupris, Thomas Benson, Emma P, Janet Hanson, Lawrence Taylor, Tristan Oliver, Marwan Marwan, and the Statist Quo Podcast.  You all are the engine that helps us power the podcast.  Thank you so much!!!
Not up for something recurring like Patreon, but want to give a couple bucks?!  Visit Paypal.me/fortressonahill to contribute!!
[powerpress_subscribe]
Fortress On A Hill is hosted, written, and produced by Chris 'Henri' Henrikson, Danny Sjursen, and Keagan Miller.
Intro / outro music "Fortress on a hill" written and performed by Clifton Hicks.  Clifton's Bandcamp page; Clifton's Patreon page
Cover and website art designed by Brian K. Wyatt Jr. of B-EZ Graphix Multimedia Marketing Agency in Tallehassee, FL
Note: The views expressed in this podcast are those of the hosts alone, expressed in an unofficial capacity, and do not reflect the official policy or position of the Department of the Army, Department of Defense, or the U.S. government.
Update Required
To play the media you will need to either update your browser to a recent version or update your
Flash plugin
.
Download audio file