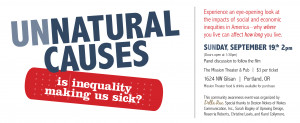 Bridget B. sitting in for Paula
Guess who's back for a little air-time injection.  It's me, Bridget B., and Paula was kind enough to make a way for me to have a little air-time on KBOO this Thursday evening from 8pm - 10pm.
Not only will I play some of my favorite music, but I'm set to interview community advocate Della Rae. Together, we'll discuss her most recent project; Unnatural Causes, a community event featuring the documentary by the same name and a panel discussion that will be held at Mission Theatre and Pub on NW Glisan Street this Sunday, September 19 at 2:00pm.  For ticketing information go to http://www.mcmenamins.com/events.
Can't wait to play some music, have a chat and say hello to all the KBOO listeners.
Bridget B. - I'm Just Sayin'
Twitter: @sullybridgetb