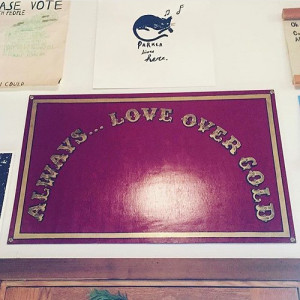 Subscribe to podcast
A People's History of Music is a podcast to be produced by Eric Isaacson and Erin Yanke, with help from Rebecca Gilbert.

The podcast will focus on significant moments in the history of recorded music from the point of view of those with less power: usually the musicians. Most music history is told from the successful, the multimillionaires, the executives, the winning team. Culture, however, is created by a great many people, and many of those do not find themselves as part of the story of music history.
Funded in part by a grant from the Regional Arts and Culture Council. Thank you RACC for supporting the stories and the artists!
 "Always Love over Gold" (the motto of Mississippi Records)
Photo by ian.crowther is licensed under CC BY-NC 2.0