Air date:
Fri, 07/24/2020 -

8:00pm

to

10:00pm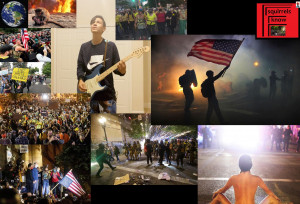 More Images:
I discuss the issue of The Portland Protests, and their clash with the Department of Homeland Security. The possibly unlawful mandate to maintain DHS presence in the city, as well as poor Federal leadership are noted. Show dedicated to George Floyd, the BlackLivesMatter movement and our heroic protesters and their resolve to continue to put pressure on the Federal government to tackle the issues at hand. I believe police defunding is not the answer, however the enactment of a thorough law enforcement reform would be best. All we have to do is put on paper the parameters of an unprecedented police reform, and we focus on specialized training designed to eliminate systemic racism. The governmental law enforcement field (police, military) thrives on specialized training. Let's keep this fact in mind.
--------------------------------------
I talk about my certainty that we are deserving of Angels from Heaven to rain down on our planet and provide us with aid, support and protection, so we can achieve everything we need to achieve timely.
----------------------------------------------
This year has blown my mind. 

First, the Australian Fires. That almost broke me, because I have this hugeee connection to our planet and the precious animals and the tragedy was too much for me. Last year we had the massive fires in the Amazon Rainforest. So yes, this ongoing destruction of Mother Earth has personally reached intolerable levels. 
 
Then, the dang virus, with the quarantine and now the masks everywhere you go. I am entertained by the whole thing to be honest, but it's pretty weird to say the least! It was great to see our heroic medical teams take care of things, so in a sense that was good for me to see. The fact that people can have so much commitment to help others and do the right thing. But still, this is a very serious issue and we need answers and medicine. And by "medicine", I don't mean just a vaccine, but a compendium of both allopathic and homeopathic alternatives that can help people feel stronger. I simply cannot trust a vaccine created by the current, outdated pharmaceutical paradigm. I am convinced we need to investigate this virus issue thoroughly, and we should because logic dictates there is an impolite possibility this entire pandemic has been the result of foul play by multinational conglomerates, and if this is the case, then the actions taken would be very different. 

Lastly, to top it off, the murder of George Floyd. That was the last drop for me. It really shows us where we are with systemic racism, injustice and inequality. We need a massive rewiring in the way we conduct ourselves in this world, and I am sure we can achieve what we want if we continue to protest and make our voices heard, no matter what. Common sense and truth are on our side.
It is clear to me the key would be to NOT accept what is given, but to **protest and dissent** in order to create a brand new reality for all of us.
Let's feel proud of Portland, and hope the actions of all the thousands of heroic Portlanders will help reignite the protest movement throughout the country, so we can finally switch things around for America and help enact justice! Let's go all the way! 
Note: let's not forget about Donovan LaBella, 26 years old, who got shot in the face with a non-lethal munition by a US Marshal. He was doing nothing more than exercising his right to protest, and now he's going through reconstructive surgery, plus a lengthy, painful recovery, not to mention trauma he's going to have to deal with for the rest of his life.  
Thank you for giving me your attention, means the world to me! We gotta stand together and make justice happen! Much love to you :P
Update Required
To play the media you will need to either update your browser to a recent version or update your
Flash plugin
.