Air date:
Tue, 06/27/2017 -

11:30am

to

12:00pm
More Images: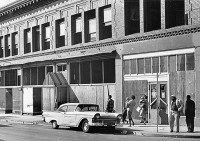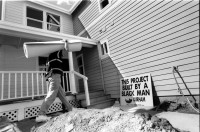 Project Manager Kayin Talton Davis
KBOO's Eric Bartels speaks to Kayin Talton Davis...the project manager of The Black Williams Project.
N Williams/Albina was Portland's largest African American community. The goal of the Black Williams Project is to highlight this history, through a multimedia public art project. "The Ave" was once the vibrant heart of Portland's Black community. How times have changed. Businesses, social groups, nightclubs – all of them were on N Williams. With N Williams' current growth and viability as a location for creative and art related businesses, the HBWP plan is to engage the African American community as contributors and beneficiaries of the recent and future economic development.
-Provided by The Committee
Around the turn of the twentieth century, Old Town in Northwest Portland was where most of Portland's African Americans lived, but with the opening of the Broadway Bridge in 1913 that began to change. Families moved east and bought homes in the Albina district – the only area that was open to them owing to redlining by the Portland Realty Board. By 1920, 62% of Portland's African Americans residents, and 80% of African American families with children, lived near Williams Avenue, and Black social life began to revolve around businesses on Russell Street and Williams Avenue.
During World War II, recruiting in other areas of the country for workers to fuel the rise of the shipbuilding industry in Portland brought an influx of many more African Americans – five times as many as lived in Portland before the war. During this time, Williams Avenue became known as "the Black Broadway," owing to the many clubs where nationally known African American jazz musicians performed.
In the 1950s, Williams Avenue was a thriving main street of African American businesses. But like many African American districts around the country, the Albina district was subjected in the 1960s and 70s to discriminatory urban renewal efforts. Several projects – especially Memorial Coliseum, the Minnesota Freeway, and a major expansion project for Emanuel Hospital that fell through – combined to raze hundreds of homes and businesses owned by African Americans.
By the 1980s, systematic disinvestment was taking its toll. In the 1990s, the City of Portland undertook an inclusive planning process that resulted in the 1993 Albina Community Plan. Action items identified by the community were successful in drawing investment into the district, with the unintended consequence that many long-time residents were then displaced by rising property values. Between 1990 and 2010, the demographic composition of the neighborhoods around Williams Avenue shifted from majority Black to majority white.
Kayin started to hone her artistic skills at a young age, trying various mediums and drawing portraits of her peers at age 12. Harriet Tubman Middle School is where her love of math and science developed into an interest in engineering after meeting a pediatric prosthetic designer. She saw it as a way of making children to feel "whole and able." As part of her education at Portland State, where she earned a Bachelor's of Mechanical Engineering, her design projects were influenced by this drive to be accessible to all. Kayin continued with graphic design and product development for the same reason she chose bio-mechanical engineering: to create something that is positive, helpful, and accessible to all – but especially children culturally underrepresented in the mainstream. "It is incredibly fun seeing them react to my artwork; the moment they say 'he/she looks like me!' is when it is reaffirmed that I am doing the right thing."
Update Required
To play the media you will need to either update your browser to a recent version or update your
Flash plugin
.
Download audio file