Air date:
Mon, 12/19/2022 -

9:00am

to

10:00am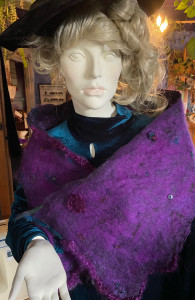 Views, Reviews, and Interviews from a Socialist-Feminist, Anti-racist, Anti-colonial and LGBTQ-positive Perspective
It's KBOO's end-of-year pledge drive and the first person who pledges $250 to KBOO during our show on Monday, December 19, will receive the gift of a reversible felted and beaded purple shawl, handmade from a mix of merino wool and silk by Fiber Mole Desiree Hellegers. The shawl is pictured at right. Support community radio in Portland!
Patricia Kullberg hosts this episode of the Old Mole, which includes the following segments:
Stolen Children: Congress passed the Indian Child Welfare Act (ICWA) in 1978 following over 100 years of federal policies that separated Native children from their families and frequently placed them in non-Native homes.  A pending decision before the US Supreme Court centers on the legality of this decades-old federal requirement and threatens to overturn the law. Jan Haaken talks with Dr. Art Blume about the case, the history of ICWA, and what's at stake for tribal sovereignty and Native children and families. Blume is an American Indian scholar, Professor of Clinical Psychology at Washington State University Vancouver and former President of the Society of Indian Psychologists. Read the amicus brief from the Society of Indian Psychologists at https://www.apa.org/about/offices/ogc/amicus/haaland-brackeen
Writing the Interior Life: Sue Miller is a novelist of the interior life, especially of relationships and what drives them. Novels of ideas and feelings rather than of dramatic events. Often harshly self-judging, there is such emotional honesty in her novels that they sizzle and burn. In this tribute to the author book Mole Larry Bowlden takes a look at her work over the years, including the novels, The Arsonist, The Good Mother, While I was Gone, and her memoir, The Story of My Father.
An Anti-fascist Christmas Carol: Desiree Hellegers reads an excerpt from her commentary, "An Anti-fascist Christmas Carol and Tale of Two Cities: Portland, Oregon at the Crossroads," which appears in today's edition of Counterpunch. She reflects on the role that the persistent demonization of houseless people, BLM protesters, and anti-fascists played in the City Council's decision to spend $27 million on massive militarized camps for houseless people; on the routine deaths of houseless people on streets and sidewalks in the City of Roses; and on the existential threat to the City posed by Zenith Energy and the "tank farm" in NW Portland.
Putting Government in its Place: Bill Resnick interviews David Riemer about his latest book, Putting Government in its Place, the Case for a new Deal 3.0. But don't be fooled. He sees state policy as crucial for controlling capitalism, and he attributes our current crises of inequality, homelessness, and global warming to perhaps unfortunate decisions made in the first Roosevelt New Deal and then aggravated as these unfortunate policies were embodied in legislation after World War II. He proposes what needs be done that would gain popular support today. Bill challenges David's recommendations for mitigating global roasting, and they discuss whether, at least for a time, business as usual and its "free market" and constant growth must give way to a great international mobilization guided by public planning to reconstruct how people, especially in the larger industrialized states, produce and live.  
Update Required
To play the media you will need to either update your browser to a recent version or update your
Flash plugin
.
Download audio file