Air date:
Thu, 12/08/2022 -

7:00pm

to

8:00pm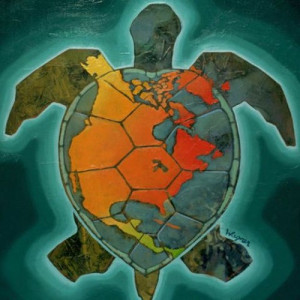 Part 1
The People of the Red Mountain are an Indigenous led grassroot organization comprised of Paiute & Shoshone peoples, surrounding Indigenous nations, and supporters working to protect Peehee Muhuh (Thacker Pass) from the possible construction of the Thacker Pass Lithium Mine in northwest Nevada. If the mine is built, it would be the United States' largest source of lithium supply generating 60,000 metric tons of battery-grade lithium carbonate annually. The People of the Red Mountain are calling for support in demanding the U.S. Department of the Interior to rescind the Thacker Pass Lithium Mine Project Final Environmental Impact Statement, Record of Decision, and Plan of Operations. 

Lithium Nevada Corp. is a subsidiary of the Canadian corporation Lithium Americas Corp. which proposes to build the open pit lithium mine with a project area of almost 17,933 acres that will use 5,200 acre-feet per year of water (equivalent to an average pumping rate of 3,224 gallons per minute) in one of the driest regions in the nation. Lithium Nevada Corporation characterizes the mine as a green project, despite estimates the mine will produce an estimated 152,703 tons of carbon dioxide emissions every year and will cause irreversible harm to the Fort McDermitt Paiute and Shoshone Nation, ancestral massacre sites, the water, air, medicines, culturally important wildlife relations, and everything else the land and waters culturally sustain for the Peoples. The Bureau of Land Management approved the mine on January 15, 2021, without adequately consulting our tribal members. Tune in on how support and Peehee Muhuh (Thacker Pass).
The People of the Red Mountain (https://peopleofredmountain.com/) are having action on April 24th, 2022, at Ildewild Park, Reno, NV from 11:00am to 5:00pm.
Guests: 
Gary McKinney (from the Duck Valley Shoshone Paiute Nation and Fort McDermitt) of the People of the Red Mountain.
Joshua Dean Sr. (Western Shoshone, Walker River Paiute Nation), of the People of the Red Mountain.

Part 2:
On 2/27/2022, the IPCC Sixth Assessment Report, Working Group II, Climate Change 2022: Impacts, Adaptation and Vulnerability Report was released with participation from Indigenous scholars, academics, and scientist in still a relatively new phenomenon (eight to ten years). For more sixteen years, Indigenous peoples were largely excluded in participating in the previous IPCC assessment reports. The Intergovernmental Panel on Climate Change (IPCC) was established by the United Nations Environment Programme (UNEP) and the World Meteorological Organization (WMO) in 1988. In 1990, the IPCCs First Assessment Report (FAR) was published. However, in 2007, the IPCC and former U.S. President Al Gore won a Nobel Peace Prize while Indigenous peoples were absent and often locked out of the IPCC and WMO process. 

Todays guest is one several Indigenous academics, scholars, and scientist to participate and contribute to the IPCC Sixth Assessment Report, Working Group II, Climate Change 2022: Impacts, Adaptation and Vulnerability. Tune in for summary and update on the reports highlight in Protecting Mother Earth. 

Guest: Dr. Nikki Cooley (Dine Nation), Co-Manager, Tribes & Climate Change Program
Interim Assistant Director of Institute for Tribal Environmental Professionals:
Office of Native American Initiatives Northern Arizona University. www7.nau.edu/itep/main/tcc/
Originally released on 04-21-2022 
Update Required
To play the media you will need to either update your browser to a recent version or update your
Flash plugin
.
Download audio file