Air date:
Tue, 08/16/2022 -

11:30am

to

12:00pm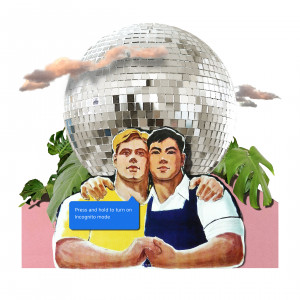 More Images:
Stupid Little Life at Blue Sky Gallery
On Tuesday, August 16, 2022, Joseph Gallivan interviews Yuyang Zhang [PRONOUNCED YOO-yung CHUNG) about his show Stupid Little Life, on now at Blue Sky Gallery through August 27, 2022. Zhang talks about his mixed-media digital collages and photographic diptychs which concern queer identity and propaganda, his progress in getting a green card, and his thoughts about China, his country of birth.
Zhang will give a live talk in the gallery on Aug. 25 at 6pm.
This interview was recorded by Zoom video conferencing software on Aug. 11, 2022, engineered by KBOO volunteer Ray Bodwell. https://kboo.fm/blog/55224
From the press release:
https://www.blueskygallery.org/exhibitions/archives/2022/yuyang-zhang
stupid little life
August 6 - 27, 2022
Blue Sky is pleased to announce stupid little life, an exhibition of recent work by Yuyang Zhang.
Umm, what would you do when there is a constant state of anxiety because your visa application could be rejected at any moment, forcing you to pack your decade of life in the US and leave the country in 10 days? Would you feel everything is meaningless and start to crumble on your own weight, or would you try your best to keep carrying on through that thin glimpse of hope? stupid little life, an exhibition of Yuyang Zhang's mixed-media digital collages and photographic diptychs, tells a visual story of finding a new identity between two cultures. This exhibition also encapsulates the artist's mindscape during the turbulent 20-month process of O-1B visa petition as a Chinese diaspora.
Zhang's digital collages playfully yet delicately navigate the complex channel of cultural hybridity, societal authenticity, queer identity, and the mentality of being acceptable as a member of the diasporic communities. Layers of old Chinese propaganda posters, screenshots, and personal photographs strip the subjects out of context and place them in new American settings. Historic communist propaganda is repurposed to bridge past and present-day China, then seamlessly blended with American political and cultural iconography. The juxtaposition creates new narratives built upon fragments deconstructed from the original. It also exposes sources of persistent stereotypes and prejudices that often burden people from China or with Chinese heritage. The resulting work also subtly hints at the tension between the two geo-political superpowers.
Via intentional compositional and visual choices, his photographic diptychs offer serene visual memories. Each work contains a photograph of a car and another image of various subjects. Lines end their journey on one image but continue on the other photo at the same point. Elements echo each other through color, shape, or metaphorical symbols. The ending results are what Zhang describes as "sad beautiful things." This body of work, sharing a similar practice to his collage-making, invites the audience to slow down and find the connections that may originally seem unrelated. These works also summarize Zhang's effort to find inner peace in the chaotic journey. 
This balance shapes its own reality between levity and seriousness, beauty and sorrow, peace and tension. stupid little life fosters a space for all, but most importantly for anyone who doesn't feel as though they are  "being enough." You are welcome to escape, re-imagine, multiply, and heal in this space.
20% of any sales from this exhibition will be donated to the Q Center and the Asian Pacific American Network of Oregon.
---
In-Person Artist Talk, Thursday, August 25, 6 PM
---
Yuyang Zhang (He/Him) (Chinese, b.1993) is a multi-disciplinary artist living and working in Portland, Oregon. His work investigates personal and cultural identities. Zhang's work primarily navigates the experience of the Chinese diasporas and social-political issues through pop culture references, internet landscape, and temporal iconography. 
Zhang holds a BS in Hospitality and Tourism Management from Purdue University and an MFA in Visual Studies from Pacific Northwest College of Art. He has exhibited nationally and internationally, including Oregon, Indiana, China, and Germany. Zhang has been featured in publications including Variable West, Art and About, AINT-BAD, The Hand, and My View Only: A Monologue of Mobile Photography. Zhang's work is part of the Regional Arts & Cultural Council 2022 Public Arts Collections.
THE BIG ASK
Are you listening? 
KBOO Radio is a volunteer-run nonprofit, and it needs your money if you are listening. 
Go here to donate. https://secure.givelively.org/donate/the-kboo-foundation
To hear previous episodes of this show or any of our KBOO public affairs programming, just go to KBOO dot F-M or listen on iTunes, Google Play, or wherever you get your podcasts.
Joseph Gallivan has been a reporter since 1990. He has covered music for the London Independent, Technology for the New York Post, and arts and culture for the Portland Tribune, where he is currently a Feature Writer. He is the author of two novels, "Oi, Ref!" and "England All Over" which are available on Amazon.com
Update Required
To play the media you will need to either update your browser to a recent version or update your
Flash plugin
.
Download audio file