Air date:
Tue, 06/07/2022 -

11:30am

to

12:00pm
More Images: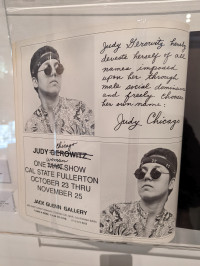 Bruce Guenther about Turning Inward: Judy Chicago
On Tuesday, June 7, 2022, Joseph Gallivan interviews curator Bruce Guenther about Turning Inward: Judy Chicago, a new show at the Oregon Jewish Museum through September 23.  Guenther talks about Chicago's Lifesaver paintings, her colored smoke atmospheres, her sketch journals and her 60-year career as an artist. Chicago is best known for her work The Dinner Party, which celebrated women's power, but Guenther talks about her constant changes of medium and focus, from Minimalism and the soft colors of Rainbow Picket, to her challenge to the sexism of the Land Art and Light and Space art movements. The works are from the Collections of Jordan D. Schnitzer and His Family Foundation.
This interview was recorded on a Zoom H2N recorder on June 3, 2022, with masks, in person and edited by KBOO volunteer Ray Bodwell. https://kboo.fm/blog/55224

From the press release:
https://www.ojmche.org/events/turning-inward-judy-chicago/
FROM THE COLLECTIONS OF JORDAN D. SCHNITZER AND HIS FAMILY FOUNDATION
June 2 – September 23, 2022
Turning Inward, JUDY CHICAGO, From the Collections of Jordan D. Schnitzer and His Family Foundation, traces Judy Chicago's development as an artist and Jewish woman across six decades, from her early formal vocabulary of geometric color abstraction and groundbreaking work with pyrotechnics to the powerful explorations of self-identity, the politics of gender, and her personal formative experiences.
Curated by Bruce Guenther, OJMCHE Adjunct Curator for Special Exhibitions, and OJMCHE Director Judy Margles and drawn from the Collections of Jordan D. Schnitzer and His Family Foundation, this exhibition of 35 pieces primarily focuses on works on paper, including preliminary works leading to her monumental work, The Dinner Party, 1979; a stained-glass panel from Chicago's Holocaust Project, 1985-1993; a cast glass piece, Grand Flaming Fist, 2007; as well as a group of large scale photographic prints of Chicago's Atmospheres series.
Together, these works chart the boundary-pushing path of the artist named Cohen by birth and Gerowitz by marriage, who, in defiance of what she called the patriarchal structure of the Los Angeles art world, decided to throw down her gauntlet to history. In October 1970, Judy Chicago announced her chosen identity with a full-page ad in Artforum, divesting "herself of all names imposed upon her through male social dominance." The same year, Chicago founded the first feminist arts education program in the United States at California State University, Fresno, a radical pedagogical approach that she has continued to develop over the ensuing years.
Throughout her often tumultuous, challenging, and frequently controversial career Chicago continued to push forward a feminist-based approach to art and art education, dedicating herself more fully to researching and surfacing the histories of women in Western civilization and combating the systemic erasure of women's achievements from the historical record of contemporary art. Beyond the politics of gender, Chicago went on to explore and create a whole series of works around challenging themes such as the Holocaust, birth, and patriarchy's hunger for power and dominance.
The Holocaust Project: From Darkness into Light, 1985-1993, extended Chicago's investigation of the dynamics and manifestations of power beyond societal structures. It marks her first collaboration with her husband, Donald Woodman. Their marriage prompted a consideration of her Jewish roots and heritage, which she had not focused on previously. The result of a charged eight-year investigation that began with the Holocaust but ultimately included genocides around the world, Chicago with Woodman created a haunting body of work.
In 2021, on the heels of the 40th anniversary of Chicago's landmark installation The Dinner Party, Judy Chicago had her first retrospective exhibition at the FASM de Young Museum in San Francisco. Judy Chicago: A Retrospective not only achieved Chicago's goal of having the body of her art emerge from the shadow of The Dinner Party, but it also brought the now 82-year-old artist's wide-ranging oeuvre of work to a new audience. As noted in a review in the Guardian, "With little regard for the dictates of the art market, Chicago often worked at a very large scale, provoking audiences to have visceral responses to her pieces. Yet in spite of her facility with various media, she toiled in comparative obscurity for many years, her pieces languishing in storage or destroyed. The de Young's exhibition is an overdue corrective." To further mark the artistic moment, 2021 also saw the publication of her third summarizing autobiography The Flowering: The Autobiography of Judy Chicago.
Turning Inward, JUDY CHICAGO, From the Collections of Jordan D. Schnitzer and His Family Foundation brings into focus an artist whose lifelong artistic exploration has at its foundation art as activism. For six decades, Judy Chicago has remained steadfast in her commitment to women's rights to engage in the highest level of art production and to the power of art as a vehicle for intellectual transformation and societal change.
Image above: On Fire at Eighty, edition AP 1/16, 2019. Collection of the Jordan Schnitzer Family Foundation. © Judy Chicago/Artists Rights Society (ARS), New York. Image: Aaron Wessling Photography.
---
Related Material
Judy Chicago (born in 1939, Chicago, USA; lives and works in New Mexico, USA) is an artist, educator, the author of fifteen books and humanist. She considers her work and life as models for an enlarged definition of art, an expanded role for the artist and women's right to freedom of expression. Judy is most well-known for her role in creating a feminist art and art education program in California during the early 1970s and for her monumental work The Dinner Party (1974–1979).
The talk is presented in partnership with the Toronto Biennial of Art and on the occasion of Judy Chicago's A Tribute to Toronto a newly commissioned site-specific work that will take place on Saturday 4 June, 2022, at Sugar Beach, as part of the second edition of the Biennial, March 26-June 5. For more information visit torontobiennial.org
THE BIG ASK
Are you listening? 
KBOO Radio is a volunteer-run nonprofit, and it needs your money if you are listening. 
Go here to donate. https://secure.givelively.org/donate/the-kboo-foundation
It's like an old school version of smashing the like and sub buttons. 
 
To hear previous episodes of this show or any of our KBOO public affairs programming, just go to KBOO dot F-M or listen on iTunes, Google Play, or wherever you get your podcasts.
Joseph Gallivan has been a reporter since 1990. He has covered music for the London Independent, Technology for the New York Post, and arts and culture for the Portland Tribune, where he is currently a Feature Writer. He is the author of two novels, "Oi, Ref!" and "England All Over" which are available on Amazon.com
Update Required
To play the media you will need to either update your browser to a recent version or update your
Flash plugin
.
Download audio file