Air date:
Thu, 09/30/2021 -

11:30am

to

12:00pm
More Images: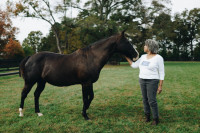 An interview with equine empath and ethicist Rosalyn Berne
"Horses, in their capacity to heal, become a mirror of our
inner life. This is where and how the work begins. The horse
that chooses us reflects our deepest self to us."
While in Costa Rica for a month to work on writing a book Rosalyn Berne decided to go to take a break and go horseback riding. What happened on that trip, changed the course of her life. She discovered her abilities as a horse whisperer.
 In this episode of the Disobedient Femmes, Suzanne LaGrande speaks with Rosalyn Berne, horse whisperer, write and professor of ethics.  In this interview Rosalyn Berne talks about:
The incident that led to her being able to hear and speak to horses
The process of hearing and communicating with horses
 For more about Rosalyn's work visit rosalynberne.com
To hear more interviews with kickass women writers, artists, and social change makers, visit
suzannelagrande.com or disobedientfemmes.com
The important lessons she learned from speaking with horses
A mistake she made that taught her an important lesson about the nature of respect 
Her science fiction novel
Her work as an ethicist and bringing her work with horses into the academy