Air date:
Wed, 06/16/2021 -

6:00pm

to

6:30pm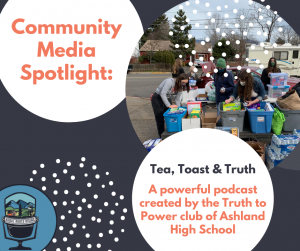 In our second season of RRR, we've been on a state-wide mission to explore community-based, intergenerational, collaborative, rural media. Join us this month as we feature Tea, Toast, and Truth, a podcast created by Ashland High School's Truth to Power club. This podcast is a great example of everyday people using DIY media to amplify local voices and create community-driven change.  
Rural Roots Rising is both a podcast and a radio show airing on 20 community radio stations, and it's also an ongoing experiment in building up our media skills across rural Oregon. We're halfway through our second season, where we're digging deep into how rural media makers do what they do. This episode features the work of creative high school students who are willing to explore complex issues in their community, all while teaching themselves how to create a podcast for the first time!

We're showcasing their third episode,"Seeing Homeless." They describe the episode as one focusing "on the struggles and biases that surround the homeless crisis." They interview members of the homeless community, home free and homeless right activists, and the Ashland Chief of Police, and ask community members to take on an active role as an ally for the unhoused community.