Air date:
Thu, 09/09/2010 - 12:00am
Dave and Jo Ann look at the flap over the City of Beaverton supporting a Mexican independence celebration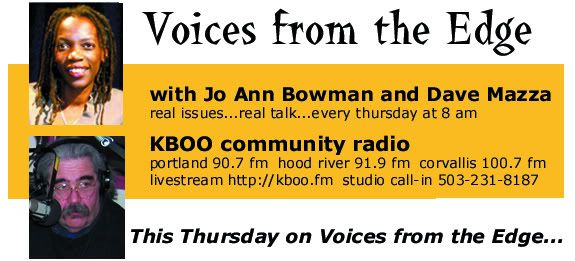 The flap over Beaverton's Mexican independence celebration: what's wrong with building community?
Also: A look at the ten most dangerous jobs (and guess what - being a policeman didn't make the cut)
The city of Beaverton has been suffering the slings and arrows of conservative talk radio for its decision to allocate $6,000 to a
bicentennial celebration of Mexican independence
on September 16 while not organizing a Fourth of July celebration. Lars Larson set in motion a pundit-a-thon that included former northwest newsman Bill Reilly castigating the city's choice of spending. Jo Ann and Dave will talk about the city's decision to support the Latino community as well as its move to broaden the celebration in the wake of Larson and company's denouncements.
Also this week, Jo Ann and Dave look at the ten most dangerous jobs an American worker can have and whether the facts support public perceptions and political messages from special interest groups like the Portland Police Association.
Also this month:
September 16: Voices from the Edge hosts a debate between Loretta Smith and Karol Collymore, candidates for Multnomah County Commissioner. In what may be an electoral first for Oregon, two African American women are vying for the seat.
September 23: Jo Ann and Dave talk with Nancie Koerber of Good Grief America about the foreclosure crisis and whether government relief efforts or helping or hurting homeowners.  
Jo Ann Bowman
is a former
state legislator
, former executive director of Oregon Action, and a long-time leader in the struggle for racial and economic justice.
Dave Mazza
is a freelance journalist and former editor of
The Portland Alliance
who has covered and been involved in Portland's
civil rights
, peace, labor and
environmental movements
for 20 years.
Join
Jo Ann
and Dave
every Thursday
as they bring you guests and discussion of issues important to you. Support programming like
Voices from the Edge
by becoming a member of KBOO today.
Program Engineer: Steve Nassar
Audio Editor: Alicia Olsen
---
portland 90.7 fm  hood river 91.9 fm  corvallis 100.7
studio call-in
503-231-8187
Update Required
To play the media you will need to either update your browser to a recent version or update your
Flash plugin
.