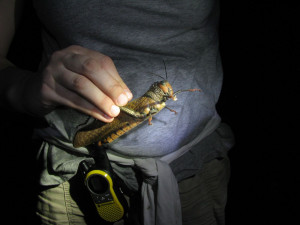 Published date:
Wednesday, August 8, 2018 - 10:00pm
Produced for (Program name):
We're taking over the planetarium from 8-830 PM, Aug 29!
Event:  OMSI After Dark:  Good Vibrations, 700-1100 PM August 29th, 2018
Where: OMSI 1945 SE Water Ave, Portland, OR 97214
Tickets:  www.omsi.edu
Location & Time of Soundscape:  OMSI Planetarium, 8 PM ONE SHOWING ONLY, capacity 186
Insectuality:  Ultrasonic Love Songs and Death Dances from the Panamanian Rain Forest 
What does the world sound like to an insect? Or a bat? Here is your chance to find out by exploring the insect music you've never heard before in 5.1. surround under the Panamanian stars. We'll be slowing ultrasonic rain forest field recordings from a Dartmouth research team to 1/20 of their original speed. In this way, we will be able to hear beyond the veil of our senses and experience a small slice of life, death and love in the rain forest canopy.
Contributors: 
Planetarium Star Mapper & Engineer:  Jim Todd, OMSI, OR
Field Recordists: Laurel Symes & Hannah ter Hofstede, Dartmouth College, NH
Mixing & Mastering:  Bill McQuay, Eco Location Sound, NY 
Sound Installation & Presention: Nicole Martin, KBOO's Threshold Shift & Echo Collector Events, OR
Selections of this piece were originally aired as part of NPR's All Things Considered in April of 2017. The extended audio was originally aired on KBOO's Threshold Shift in September of 2017. For more information about this program including contributor bios and behind the scenes footage, go to the event entry at the Threshold Shift program page! 
OMSI After Dark is a 21+ event but is ability inclusive. ADA seating is available by request in the planetarium.
If you enjoy this program, please consider joining Threshold Shift and KBOO Community Radio at the OMSI Planetarium on Tuesday, October 9th at 7:30 PM for Hear and There:  Audio Postcards from Earth. Hear and There is a new type of immersive event from Echo Collector Events in collaboration with KBOO, OMSI and a team of artists, scientists and field recordists to bring the outside in and explore the interaction of sound and starlight as it occurs in nature. If you are here, we can take you there to experience what it's like to be in the field. This fall event is part of KBOO's 50th Anniversary Celebration.