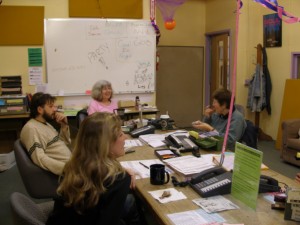 Answering the phones during a drive is a great way to start volunteering!
Do you want to get more involved with KBOO?  This is your time!  KBOO's Winter Membership Drive begins Thursday, February 6th  through Saturday, February 15th.  
KBOO's existence depends on on-air membership drives as more than 80% of our funding comes from our listeners--this is, in part, what allows KBOO to be so independent and unique.  We ask that all volunteers at KBOO  help with the drive, as we have more than 400 shifts to fill!  Shifts  are available seven days a week, generally spanning the hours of 6 AM to 10 PM, so there are shifts to fit anyone's schedule.
The drive is very high energy, and volunteers work very closely together in teams to raise money for the station— it can be really fun to schedule a shift during a time that you listen, so that you can meet the volunteers that you hear on the radio and talk with others that share your interests. If you haven't volunteered before, try answering phones & assisting our listeners to become members—it's a great way to jump on in. There are other opportunities related to the drive, so contact me for more information.  
Currently, we need volunteers to help get things together in a variety of preparatory roles-- like soliciting food, passing out posters/ flyers, data entry, and more!
Interested?  My email address is
volunteer@kboo.org
or you can phone me at 503-231-8032 ext. 213, I'll be happy to hear from you.