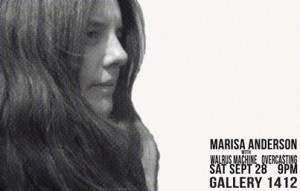 Marisa Anderson Tour Schedule
Our artist in residence Marisa Anderson,  goes on a full US tour as of Friday!
Marisa's residency at KBOO was about delving into songs in our public domain, and she'll be playing some of the songs in her set.  She'll also have the Elizabeth Cotten/Marisa Anderson split 7" for our 45th anniversary on sale at her merch table!
Marisa will be back in Portland at the end of November, and we'll be having the artist in residency performance sometime at the beginning of December.


Sat 9/28 Seattle Washington @ Gallery 1412 w/Walrus Machine, Josh Medina 8:30pm

Sun 9/29 Moscow ID @ Wanderer's Tavern 9pm

Mon 9/30 Missoula Montana @ VFW 10pm

Wed 10/2 Omaha Nebraska @ O'Leavers 9pm

Thu 10/3 Minneapolis MN @ Treehouse Records instore 6pm

Thu 10/3 Minneapolis MN @ Bedlam Theater

Fri 10/4 Chicago IL @ Reckless Records instore 5:30

Fri 10/4 Chicago IL @ The Hideout, opening for the Pines 9pm

Sat 10/5 Bloomington IN @ house show 1305 S. Madison St w/Circuit Des Yeux 7pm

Sun 10/6 Cleveland OH @ Mahalls 20 Lanes 9pm

M Mon 10/7 Detroit MI @ Trinosophes 8pm

Tues 10/8 Hamilton Ontario Ca @ new venue at 121 Hughson St. N

Wed 10/9 Guelph On Ca @ Silence 8pm

Thu 10/10 Burlington VT @ Angioplasty Studio w/ Pete Bernhard 9pm

Fri 10/11 Belfast Maine @ Myn's on Market @ w/ Asa Irons, Village of Spaces 7pm sharp

Sat 10/12 Portsmouth NH @ Portsmouth Book & Bar 8pm

Sun 10/13 Providence RI @ AS220 w/Lizzie Davis, Arch Cape 9pm

Mon 10/14 Biddeford Maine @ The Oak and the Axe w/ Pete Bernhard 8pm

Tue 10/15 TBA

Wed 10/16 NYC TBA

Thu 10/17 Washington DC TBA

Fri 10/18 Philadelphia @ Ortliebs w/ Chris Forsyth, Circuit Des Yeaux

Sat 10/19 Richmond VA @ Steady Sounds in store 5:30pm

Sun 10/20 Charlottesville VA @ the Garage w/ Guion Pratt 7:30

Wed 10/23 Louisville @ Greenhaus w/ R. Keenan Lawler& Tim Barnes duo 7pm

Thu 10/24 Lexington @ Natasha's w/ Wooden Wand, Bear Medicine 8pm

Fri 10/25 Asheville @ The Mothlight w/ Tashi Dorji 8pm

Sat 10/26 Durham @ The Pinhook w/ Ezekiel Graves Doors 5, Show 6

Wed 10/30 New Orleans @ Domino Sound instore

Sun 11/3 Austin TX @ Salvage Vanguard Theater w/ Twigs & Yarn, Chris Vestre/Bob Hoffnar/Andy Beauduin, Spencer Dobbs 7pm

Wed 11/6 Albuquerque @ The Cooperage opening for Steel Wheels 7:30pm

Sat 11/9 – Santa Fe NM @ High Mayhem Studios

Sun 11/10 – Tucson AZ TBA

Mon 11/11 LA CA @ Ham & Eggs Tavern w/Guy Blakeslee

Tue 11/12 San Francisco CA @ The Hemlock w/ Danny Paul Grody

Wed 11/13 Oakland CA @ Stranded Records in-store 6pm

Thu 11/14 Oakland CA @ Life Changing Ministries w/ Danny Paul Grody

Fri 11/15 Santa Cruz TBA

Sat 11/16 Davis CA TBA

Thu 11/21 Arcata TBA