Healing the Healthcare Blues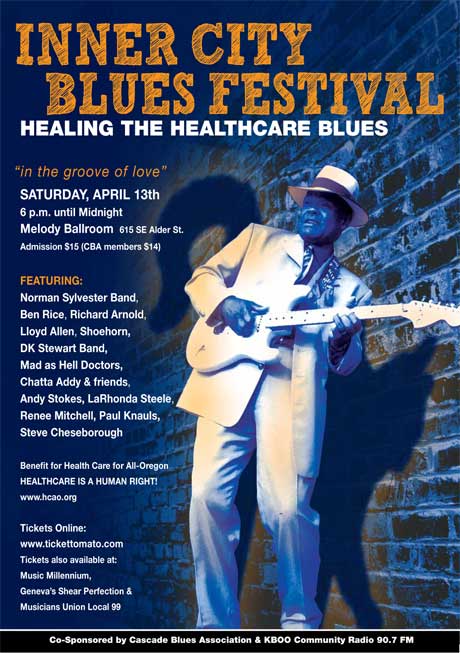 "In the groove of love," Health Care for ALL Oregon is throwing a party with a night of blues music (and you're invited!) in order to financially benefit a statewide coalition that is working towards universal, affordable healthcare for all Oregonians.  KBOO Radio is BROADCASTING LIVE from the event, featuring many great blues stars from the northwest, including Richard Arnold, LaRhonda Steele,  Andy Stokes, the Norman Sylvester Band, Ben Rice, the DK Stewart Band, the Lloyd Allen Band, Shoehorn, Mad as Hell Doctors, and Steve Cheseborough, and Chatta Addy & Friends African Drum Procession;  PLUS, celebrity Master of Ceremonies Paul Knauls, Portland businessman and former owner of the Cotton Club and Geneva's, and Renee Mitchell, former columnist for the Oregonian.  
Join us…
Saturday, April 13, 2013
Melody Ballroom
615 SW Alder Street
Portland, OR  97214
6:00 pm – Midnight
TICKETS are $15.00 each ($1.00 Discount for CBA Members) and are available at:   www.tickettomato.com   
Music Millennium – 3158 E Burnside Street
Geneva's Shear Perfection - 5601 NE Martin Luther King Jr. Boulevard
Musicians Union Local 99 - 325 NE 20th Avenue
For more information about the Inner City Blues Festival and Health Care for All-Oregon go to: www.hcao.org.
EVENT SCHEDULE
*6:00-9:00    Steve Cheseborough (Downstairs – "Community Village" with tables and RAFFLES)
*7:00-7:40    Richard Arnold "Tribute to the Crooners"
*7:40-7:50    Health Care for All -Oregon introduction
*7:50-8:30    Portland's Blues Legend Lloyd Allen
*8:30-8:55    Shoehorn "Tapping Sax man"
*8:55-9:55     DK Stewart Band's Etta James Tribute "Tell Mama"
*9:55-10:05   Mad as Hell Doctors "Mad Minutes"
*10:05-10:50 Norman Sylvester w/Ben Rice "Blues Stain's on my Hands"
*10:50-11:10 Chatta Addy & Friends African Drum Procession ("Honoring the late Obo Addy")
*11:10-12:00 Andy Stokes & LaRhonda Steele "Motown Songbook"