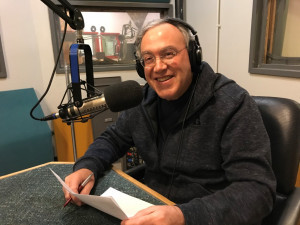 Published date:
Tuesday, April 24, 2018 - 2:45pm
KBOO has about 500 active community members who add their skills to the vibrant volunteer community. Get to know members of the community through our regular newsletter feature, The Volunteer Spotlight!
This month we turn our attention to Ken Jones, a truly versatile volunteer who has contributed to KBOO's volunteer community in numerous ways.  Ken is an announcer on the Evening News, and has announced during many live remote broadcasts (like the recent Inner City Blues Festival); he is a trainer of audio production; he writes and acts in radio theater production; and conducts interviews for Between the Covers, and produces Mr. Jones' Neighborhood, and The Holy Crowley Hour, or Two. Without further ado, please get to know Ken:
1. Please introduce yourself to the KBOO Community-- who are you, and what are you passionate about?
I'm Ken Jones, and I've been a KBOO volunteer for going on five years. I am very passionate about the medium of radio.
2 What's your favorite thing to do on a day with no commitments?
It sounds incredibly vain, but I love listening to myself on the radio. It answers the age-old question: How can you be in two places at once?
3. What brought you to KBOO?  
I've been a big fan of KBOO for many years, particularly the Grateful Dead and Friends show. Actually, just the Grateful Dead. The Friends I can take or leave.
4. What have you done at KBOO?
I started writing news readers and doing interviews, mostly over the phone, for KBOO's volunteer-produced newscast. Then followed that with pretty much every opportunity that came up (and I'm at least halfway qualified to do).
I write and produce radio theater (primarily for Rolf Semprebon's wonderful Ubu Hour and my Audio Comix podcast), do interviews with book authors for Between the Covers, host two comedy/variety shows – The Holy Crowley Hour and Mr. Jones's Neighborhood, co-anchor the Monday 5pm newscast, announce at KBOO's live remotes (Waterfront Blues Festival, Cathedral Park Jazz Festival, Good in the Hood Multicultural Festival, Inner City Blues Festival), help out with pitching during the KBOO Membership Drives, and teach several trainings including Introduction to Audio Production, and both Beginning and Advanced Digital Editing.
5. What have you learned?  
I've learned an incredible amount at KBOO about how to do radio, much of it thanks to the free trainings and generous teachers, and also from the experience of writing, editing, interviewing, and announcing. And the great thing is that there's still a lot more to learn; I can always get better. At least one can hope.
6 Are there other things you'd like to do at KBOO in the future?  
Please no!!
7. What's your favorite moment at KBOO? Any highlights?
It's been a continuous highlight meeting, working with, and talking with some of the most passionate, creative, and honorable people both at KBOO and those from our KBOO community in radio theater, books, music, and activism. I got inspired to do radio and radio theater way back in school (Morse Science High) listening to the Firesign Theatre, and I had the great privilege of doing KBOO interviews with the two surviving members – David Ossman and Phil Proctor – truly audio gods. Btw, the last radio performance by the entire Firesign Theatre was at KBOO, though I had nothing to do with that.
8. How does KBOO help your family/community/etc/?
In many ways, KBOO has become my community. Since the day I started, the people here have been welcoming, helpful, and inspiring.
9. Why is KBOO important? 
KBOO is community radio, supported predominantly by members of the community. And it's independent radio, not beholden to big corporate or government interests.
For that reason, KBOO can fulfill its charter as one of the most progressive and diverse radio stations in the country. The programming includes an incredible range of mostly locally produced public affairs, news, music, and arts and culture. And helps give voice to groups that are often overlooked by other media outlets. Pretty much anyone can come to KBOO, get trained to do radio, and add their voice to the mix.
In short, KBOO is a lot like the rug in the Big Lebowski… it ties the room together.
10 What else do you want people to know about you?
I've never been to Prague.