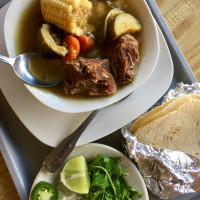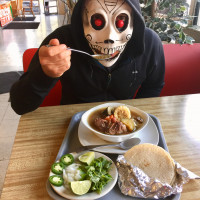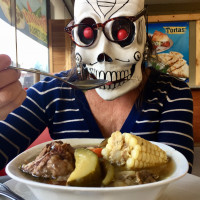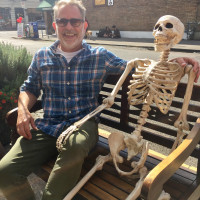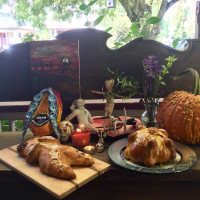 Published date:
Monday, October 30, 2017 - 11:45pm
Produced for (Program name):
CALDO DE RES
Ingredients:
2lbs bone-in beef chuck, cut 1-inch cubes
5     cups beef broth
5    cups water
8    garlic cloves    
2    onion, sliced     
2    tablespoon salt
2    corn on the cob, cut in 3rds 
2    russet potatoes, cut in 1/4rs 
4    carrots, cut in 1-inch rounds    
2    chayote squash, cut in 2-inch pieces
2    zucchini, cut in 2-inch chunks
garnishes:
lime, quartered
jalapeno, sliced
onions, diced 
    cilantro, chopped 
    salsa or hot sauce of your choosing
corn tortillas
Procedure: 
Combine the bone-in beef chuck cubes with broth, water, garlic and onions in a large pot. Add salt and bring to a boil. Cover and reduce to a simmer for 1 hour. Skim off the foam and grease. Add corn and potatoes then cover and simmer for 15 minutes. Add carrots, chayote squash and zucchini cover and continue simmering for 15 more minutes. Serve hot with garnishes.
BAKER DAN'S
PAN  DE  MUERTO  
(BREAD OF THE DEAD)
Ingredients:
1/4    cup milk
1/4    cup water 
2¼     teaspoon active dry yeast (one packet) 
3    cups unbleached all purpose flour, sifted
1/4    cup sugar 
2     tablespoons unsalted butter, room temp.
1    teaspoon salt
2    tablespoon orange zest
1½   teaspoon anise
2    eggs, room temperature
1   tablespoon milk 
For the glaze:
1/4    cup sugar
2     tablespoon orange zest     
1     juice of 1 orange 
 2    tablespoon sugar (to dust bread) 
Procedure: 
Heat milk & water in small saucepan til hot. Remove & cool the mixture to roughly 90F to 110F. Add the yeast and 1 tablespoon sugar to heated milk & water. Let stand approx 10 to 15 mins. In a large bowl, mix together 1 cup flour, sugar, butter, salt, zest and anise. Add the warm liquid & yeast. Stir until smooth. Add eggs. Add the remaining 2 c flour, ½ c at a time, stirring well after each addition, until a soft dough forms. You will likely have some flour left over and will use it in the kneading process. Turn dough out onto a lightly floured surface and knead until smooth and an elastic dough forms. Approximately 5 to 7 minutes.
Transfer the dough to a lightly greased bowl. Cover it with plastic wrap and let is rise in a warm spot, until doubled in size (roughly 45 minutes to an 1 hour). Once doubled, turn dough onto a surface and briefly knead or punch down to deflate. Cut to desired loaf or roll quantity, then remove approximately 1/5 of each loaf, this will be used to form the bones/ tears. Create round loaf(s) and place on a lightly floured baking sheet. Divide the small dough portion into 3 equal sized portions plus a small amount for a ball to top on center. Each loaf will have 3 bones and a skull. Shaping the bones is done by rolling out the small balls into a tube shape about 1/2 the diameter of the loaf then continuing to roll with 3 fingers creating 4 round or tear shaped sections with a thin sting like connecting strip. Arrange the bones criss cross on top of the round loaf pressing them into place, finish with a small round ball in the center of the top. (It is important to press these on firmly so they do not slide off durning the bake!) Cover the shaped loaf with plastic wrap or moist kitchen towel and let rise again, about 20 min. During the rising time, preheat your oven to 350F.
Brush the dough lightly with 1 Tbsp milk. Bake the bread for 25-30 minutes, until it sounds somewhat hollow when tapped and golden brown. While the bread is baking, make the glaze: Heat ¼ c sugar together with the zest and juice of one orange. Bring the mixture to a simmer for 4 to 5 minutes minutes. You should notice it slightly thicken, if not add more sugar. When removed from heat it will quickly thicken. When the bread is done, brush the warm loaf with the glaze and sprinkle with 2 Tbsp sugar before the glaze drys. Let the bread cool slightly before slicing … if you can wait! Otherwise just rip off some bones and enjoy!
FANTASTICO!