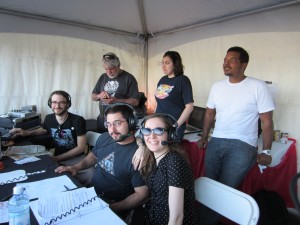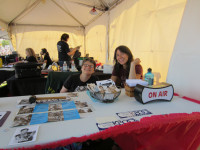 Join KBOO's dynamically diverse volunteer force as we parade into the summer.
There are many roles for volunteers at KBOO.  Whether you have a little time to do some ocassional projects, or if you are interested in making a weekly commitment, there are roles to suit your interests.  Our volunteer community is made up of about 500 people, doing what they can to bring you the great programs you listen to, and staff fun outreach events. KBOO's volunteer community is inclusive and eclectic.  They do just about everything, like:
plan and assist with myriad special events, including live-remotes and benefits

participate in KBOO's contingent in the Portland Pride Parade and Good In the Neighborhood Parade, both coming up in June!

staff the front desk and administrative assistant work

help out with building needs, like janitorial help and maintenance

create exciting and informative public affairs and news programs

participate in the engineering crew, mixing live music, and running live broadcasts from various community locations 

create amazing music, theater, and spoken arts programs
We hold orientations every month to introduce new people to volunteering at KBOO.  What you end up doing at KBOO depends largely on the intersection of your availability and interests, and the station's needs.  We hold monthly production training, so no experience is required—just bring your interests and a cooperative attitude, and have a great time learning new things and meeting some fantastic people.
The next volunteer orientation is being held on Wednesday night, June 5th, 7 - 9 pm.
You can find out more about what's happening at KBOO by checking out our website for up to date information.  For information about volunteering, check out kboo.fm/volunteer, and for information about trainings, go to kboo.fm/trainings.  Please let me know if I can answer any questions for you about volunteering.  You can reach me at volunteer@kboo.org or 503-231-8032, ext. 213, or email me at volunteer@kboo.org