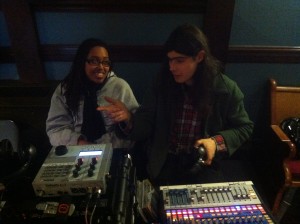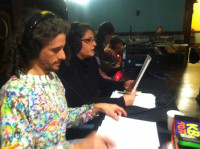 With the help of dedicated volunteers, KBOO is getting out in the community like never before.
KBOO brings the voices of our communities to the air with live broadcasts from celebrations, events, and cutting-edge lectures. Being able to respond to opportunities to broadcast from around town affords our listeners around the world the chance to be in touch with an exciting event.
Thanks to the generous support of our members, we were able to update our equipment. This has allowed us to vastly increase the number of live on-site broadcasts over the last year. But it takes more than modern, nimble equipment to make an on-site broadcast compelling radio- it takes the considerable skills of caring volunteers who are announcing, producing, and engineering the sound, all working together in a tightly knit team.
2013 promises to bring us more live on-site broadcasts than ever before. We need more volunteers to learn how to produce these important specials to make sure that we can always take advantage of these opportunities. KBOO provides training to interested community members through our volunteer program.
I want to thank all of the generous volunteers who participated in the three live on-site broadcasts KBOO produced in January. We truly couldn't do it without you.
A Conversation with Michelle Alexander                                                                                                      
Producer: jamilah bourdon
Announcers: Shay Wright and Carlos Chavez
Engineer Crew: Jessy Damon and Devin LaCroix
Board Operator: Ian Gadberry                                                                                                                           
Keep Alive the Dream: The 28th Annual Tribute to Rev. Dr. Martin Luther King, Jr.
Producer: Paula Small
Announcers: Jo Ann Hardesty, Reggae Bob Hamilton, Del Walker, Shaheed Haamid, Elizabeth Perry, Armando Gonzales, Sarina Fong, Don Merrill
Engineer Crew: Kate Welch, Devin LaCroix, Jessy Damon, and Desiree Garcia
Board Operator: Kurt Lauer and Liam Delta
Illahee Lecture Series: Raj Patel "Who Owns Our Food"
Producer: Jenka Soderberg
Announcers: Del Criscenzo and Andrew Geller
Engineer Crew: Devin LaCroix and Desiree Garcia                                                                                         Board Operator: Ian Gadberry
There are a couple of other peole well-deserving of my thanks for their roles. Thanks to Jo Ann Hardesty for helping to get KBOO connected with the Michelle Alexander talk.  Also, I want to give a huge "thank you" to Tom Hood, KBOO's Engineer, for heading up the tech team on each and every one of these events, and giving the tech volunteers solid support. 
If you are interested in learning more about volunteering with KBOO email me with this link or call me at 503-231-8032 ext 213. You can also attend the next volunteer orientation, which will be held on Saturday, February 9th, noon – 2 pm (you must arrive on time to be admitted).