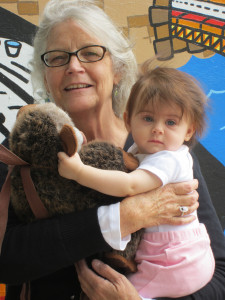 This month's volunteer spotlight celebrates the contributions of Linda Olson-Osterlund
KBOO is fortunate to have the people power of about 500 volunteers contributing their talents and energies to do just about everything here. There are dozens of roles for volunteers, including investigative news reporting, audio production, spinning fantastic music, engaging in community outreach, greeting people at the front desk, and maintaining the building, to name but a few.
This month, I want to highlight the contributions of Linda Olson-Osterlund, the host and producer of "A Deeper Look", airing on the 2nd and 4th Thursdays at 9:30 am.
Linda has been politically aware and active since the late 1960s, working in the anti-war movement, the feminist movement, and the Black Panthers. While doing various jobs -- as a food service worker, janitor, factory worker, and social service worker – she remained active in movements advocating social justice. Before coming to KBOO, Linda was volunteering for The Western Farm Workers Association and Friends of Seasonal and Service Workers, providing direct service and advocacy.
Linda had been a KBOO listener for many years when our coverage of the 1999 WTO protests in Seattle prompted her to become a member, after realizing KBOO was the only media she could turn to for the truth.
A few years after that, she heard an announcement that KBOO was recruiting volunteers for the news department. The time was right, as she was looking for a new outlet to express her political activism. She says it took her another six months to a year to "get brave enough to come in". That was in 2006. Linda has taken on a variety of roles at the station, and is developing her skills as a radio journalist.
Initially, Linda volunteered in the PM News Department, and remembers that on her second or third day, KBOO PM News Director Jenka Soderberg her to record a news story. Linda was impressed that she could get involved with something meaningful so quickly. She followed through with trainings to learn  interviewing skills, radio news writing, and basic audio production, and found her involvement deepening.
After a little while, Linda started to produce a short weekly feature for the PM News, called, "Civil Liberties Watch", and then worked in a team to produce the public affairs show, "We the People". She has also hosted talk radio, where she notes that she loves interacting with listeners, and learning from the diversity of knowledge and opinion within our communities.
Linda developed her program, "A Deeper Look", a little more than three years ago, with the intention of providing people with information that they wouldn't otherwise hear. To date, she says that producing "A Deeper Look" is her favorite activity at KBOO. She appreciates the opportunity to go into depth in her interviews with interesting and knowledgeable people. She also likes having the flexibility to explore
diverse and important topics like civil liberties, the environment, and international human rights. Linda loves the research involved in program production, as well as the chance to expose hidden truths—as exemplified in her programs this fall about surveillance issues.
In summarizing her experience at KBOO, Linda says, "It's my pleasure to be one of the many here, who bring their passion to the airwaves, be it through music or public affairs. I am proud to be a part of this."
We're very appreciative of Linda's contributions to KBOO, and proud of her service to
our listening community.