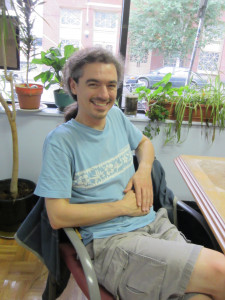 KBOO's volunteer community is an eclectic mix of 500 dedicated people-- get to know us!
January of 2009, Sam Parrish checked into volunteering at KBOO to fulfill a requirement for a class he was taking at PSU. He just needed to volunteer for a few hours, and connected with the Membership Department to provide some much needed clerical support. Although he'd been interested in volunteering with KBOO for some time, he told me that having it be tied to a class requirement helped him to get things started.

Sam is originally from Iowa, but grew up in the Bay Area, where he listened to KPFA, the Pacifica community radio station out of Berkeley. He enjoyed volunteering at KPFA. He also volunteered Hidden Villa, a wilderness preserve and working organic farm, where he was a guide for students on field trips. He says he really liked working with students to show them the connections between food, farms and wilderness.

When Sam arrived in Portland, he started listening to KBOO, and thought it would be an interesting place to get involved. He had spent his time in Portland focusing on his school program, but craved a community in which he could take part and participate. "I didn't have a lot of community at that time. KBOO helped me find a diverse group of people, that I found more in common with than in other places."

In his three and a half years at KBOO, Sam has taken on a wide variety of roles, and always seeks to increase his level of responsibility. He has done myriad tasks off air, such as staffing the front desk; answering phones during our membership drives, talking on air during the drives to tell our listeners how they can become members; supervising the pledge drive crew; staffing outreach tables; announcing from live broadcasts in the field like the Blues Festival and PDX Pop Now!; producing those live broadcasts, and a few other things, too. When I asked Sam what his favorite thing to do at KBOO is, he replied, "The new thing I'm doing, whatever that is, because it's challenging. I like the sense of accomplishment from learning and practicing new skills." In the near future, Sam looks forward to learning more of the technical skills involved in radio, such as audio production and engineering work.

We appreciate all of the endeavors that Sam has undertaken as a volunteer.  He is quick to offer help and support whenever it is needed.  Sam's love of community is contagious, and his versatility and great sense of humor add a tremendous amount to the behind the scenes work of KBOO.