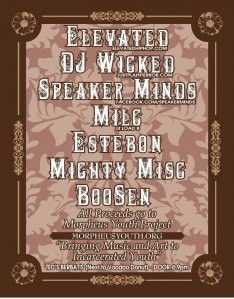 Supporting the work of the MYP to help transform lives.
KBOO is excited to co-sponsor a benefit show for the Morpheus Youth Project.
Date: Saturday, May 26th, 2012
Place: Berbati's Pan, 19 SW 2nd, Ave.
The Morpheus Youth Project creates a safe space both inside and outside of youth prison facilities, supporting growth and opportunity for incarcerated youth through the arts and humanities.
Morpheus Youth Project believes that by investing in youth through education and awareness they begin to offer viable tools and alternatives for young people in the challenging transition to a life outside of the prison system. They are developing programs to provide a support structure for creative ideas and a direction for those entering new and vulnerable stages in their development as young adults and eventually as new leaders. MYP believes that every young person deserves the opportunity to rehabilitate and to reclaim themselves as a human being and as community mentors. MYP is dedicated to teaching critical understanding and media to incarcerated youth through music, radio journalism and visual art.
Join the Morpheus Youth Project and KBOO for a CD release party. A Portland State criminal justice capstone class and the Hip Hop group Elevated will host a benefit show May 26 at Berbati's (Ted's) in downtown Portland. All proceeds from the show will go to support the MORPHEUS YOUTH PROJECT. The show features local groups Elevated, DJ Wicked, Speaker Minds, Milc, Mighty Misc and Boosen.
If you're not in the local Portland area you can still help the cause. Hip Hop artist and producer Dust of Elevated create a compilation album titled: "Between the Bars," featuring music donated by 2Mex, Olmeca, Luck One, Tope, Animal Farm, as well as the artists involved with the benefit. The album can be downloaded on the Morpheus Youth bandcamp page for a suggested donation of $5, with all proceeds going to support the Morpheus Youth Project's mission to bring empowering, socially-conscious and diverse educational opportunities to the youth in correctional facilities.