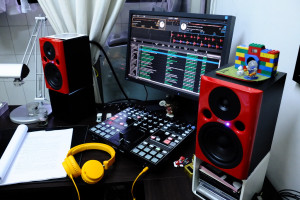 Published date:
Thursday, July 28, 2022 - 11:33am

Are you interested in testing out the airwaves without the commitment of an on-going program? Look no further!
We have designated timeslots on the program schedule just for you!
 
AudioPilots are timeslots designated for new DJs to spin a 1-2 hour set. Poetry, radio/theater, and more are welcome too! Coordinated by the Program Director. Once you've done an AudioPilot you are welcome to subsitute on the air regularly!
Radiozines are the Public Affairs equivalent, where on-air volunteers can prepare a one-off piece of talk radio... or even a series! Radiozines are typically half an hour to an hour in duration. Coordinated by the Public Affairs Director.
 
To get your On-Air Qualifications, you'll need to meet/take the following certifications and trainings:
-Volunteer Orientation (More information Here)
-Sign the Volunteer Agreement
-FCC Basics: Legal Issues in Radio
-Sign the On-Air Contract

Next steps
The next step to getting on the air will vary depending on whether you plan to produce your AudioPilot/Radiozine remotely, In the KBOO Production Studios, or broadcast live. You can sign up for the additional trainings listed below on Galaxy.

➪If you are producing your piece remotely and already know how edit audio from home, you are ready for broadcast!
Optional Training: Audio Editing with Audacity
➪If you are interested in preproducing your piece from the KBOO studios, please sign up for Introduction to Studio Production.
➪If you are interested in live broadcasting your AudioPilot/Radiozine, please sign up for Board Operator Training. (Introduction to Studio Production is a prerequisite)
Scheduling your AudioPilot/Radiozine
1.) Reach out to the Program Director or Public Affairs Director with the following details: Is the piece live or preproduced, desired timeslot duration, topic/genre, and whether it will be clean or explicit. This will help determine scheduling. If the program is Live, let us know your availability. The PD/PAD will coordinate the date/time of the broadcast with you.
2.) Email the PD/PAD a blurb about the episode. It can be a sentence or multiple paragraphs! This will allow us to promote it on the website! You are also welcome to share a photo to go on the episode page. However, the photo must be copyright free.
-Pro Tips: create a graphic yourself on canva or paints! Or use a royalty free image search tool! (Be sure to provide the text that credits the creator)
-Feel free to share the episode link on social media! You can Tag KBOO to amplify your audience.
 
Submitting a Preproduced AudioPilot/Radiozine:
3.) Submit the audio file to this google form. Please note that you need to select which folder to drop your file into (One is for Clean audio, the other is for Explicit - Safeharbor Shows that air between 10pm and 6am)

File specifications for Preproduced AudioPilots/Radiozines:
- File Types: WAV, MP3, or FLAC
- File Duration for Radiozines: The program should be less than 2 minutes of the allotted timeslot (a 30 minute program should be a 28 minute file)
- File Duration for AudioPilots: The file should be the full duration of the allotted timeslot, however the last 5 minutes should be music.
(This is to account for the file potentially being cut off at the end of the timeslot)
-Name the audio file accordingly:
- Date_AudioPilot/Radiozine_Episode Name_(clean/Explicit)_Your Name
i.e. 7_28_22 AudioPilot Dance Trap with DJ CV (Explicit) - Tom Hanks
- If you coordinated with a staff person in advance, they should let you know the broadcast date, However an AudioPilot/Radiozine can always be scheduled after submission too.
In that case, label the date as the date of submission.
The Episode Name can be whatever you like! This just helps us identify the file easily.


Please don't hesitate to reach out with any questions!
For AudioPilot, contact program@kboo.org
For Radiozine, contact publicaffairs@kboo.org