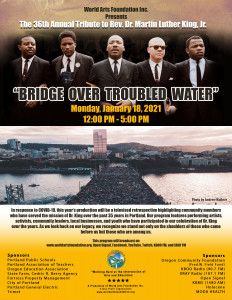 Published date:
Monday, January 4, 2021 - 5:24am
Produced for (Program name):
"Bridge Over Troubled Water"
A Tribute to the Life & Legacy of Rev. Dr. Martin Luther King, Jr.
Monday, January 18, 2021
12:00 PM – 5:00 PM
Streaming on: www.worldartsfoundation.org, Open Signal, KBOO 90.7 FM, 
This retrospective program draws from our organization's legacy hosting a community event honoring Dr. King's work. Our events have connected local performing artists and community leaders to underserved communities of color since 1978. This year's program film features performing artists, activists, public officials, businesses, choirs, and youth who have participated in this event over the years. Through a combination of archival footage and contemporary interviews, "Bridge Over Troubled Water" draws inspiration from Dr. King's mission to ensure peace, social justice, civil rights, and human dignity for all.