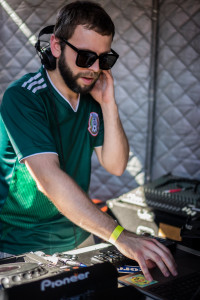 More detailed playlists available at: https://spinitron.com/KBOO/dj/143036/DJ-Panaflex

Hailing from the city of roses, Charlie Thompson (DJ Panaflex) discovered international club music at age 13 during a family visit to Monterrey, Mexico, an experience which inspired him to start compiling mixes, and to begin, five years later to air them on his long-running Electric Lunch radio program on KBVR FM Corvallis. In 2008, while living in Guatemala, Charlie began a love affair with sounds he heard there imported from Colombia, Panama, and The Dominican Republic, Jorge Celedon, Hector Acosta, La Factoria, Flex... it was a journey of discovery that would culminate years later on the island of Hispañola where he saw his favorite bachateros perform live and snatched up every new bootleg dembow compilation being sold on the street.
Since returning to Portland in 2013, he has focused his efforts on creating mixed sets in a wide variety of genres including cumbia, dancehall, reggaeton, kuduro, afrohouse, kizomba, zouk, baile funk, and dembow, which have seen releases on the outstanding Brother Sister and JEROME mix series, garnered support from Michael Bruce (Gran Ritmos, @soniclozenge) and Freaky Outty (The Way Up, Snap! @freakyoutty), and won him multiple radio appearances, including Night Drive on XRAY FM and DJ Anjali & The Incredible Kid's (@the-incredible-kid, @djanjali) Kabhi Khushi Kabhie Kush program on KBOO FM.
Since 2016, his ongoing series of afro-diasporic socials have been delighting dancers of kizomba, tarraxinha, and semba. His successful biweekly KiZouk Connection dance night in partnership with Nathalia Carbajal was host to many national and international performers and instructors of Brazilian zouk including Marc Brewer, Ivo Vieira, Bruno Galhardo, Mafie Zouker, Braz dos Santos, Leo & Romina, and more.
See djpanaflex.com for more info.